The Coastal California Gnatcatcher ranges from San Diego County north to Ventura County and includes Riverside and San Bernardino Counties. They are known from across the Upper SAR Planning Area. Gnatcatchers are listed as threatened due to habitat loss and degradation.
Gnatcatchers are found in Venturan, Riversidian and Diegan coastal sage scrub with population density generally higher along the coast than inland areas.
They glean insects from vegetation, primarily sagebush and buckwheat. Gnatcatchers are a non-migratory, resident species that are active yearlong. They breed from February to August with juveniles dispersing in late summer and early fall. Nests typically contain 2-5 eggs and are incubated from 14-15 days. Chicks fledge approximately 2 weeks after hatching.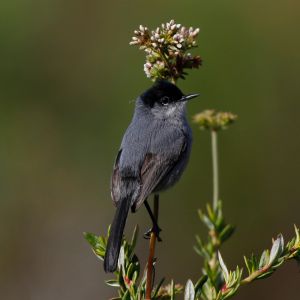 The primary threat to the Coastal California Gnatcatcher is habitat loss and degradation, but also includes habitat fragmentation, and brown-headed cowbird brood parasitism. Wildfires reduces available habitat. Management is primarily habitat protection and enhancement.
How you can help: Use iNaturalist to report gnatcatcher sightings!