The Santa Ana River woolly-star are restricted to the Santa Ana River complex, occurring in the River, as well as tributary creeks.
This species occurs on alluvial terraces of open floodplains with intermittent flooding and low cover of other plant species.
Santa Ana River Woolly-star are a perennial shrub species that typically lives for about 5 years. They are pollinated by insects, including the giant flower-loving fly, sphinx moth and bee species, as well as hummingbirds.
Santa Ana River woolly-star typically bloom between April and September. They have a vibrant purple flower.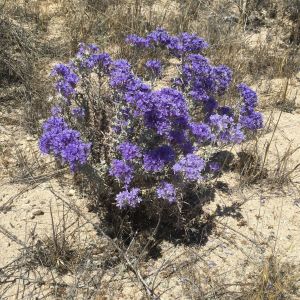 Santa Ana River woolly-star is threatened by habitat alteration resulting from mining, hydrologic alterations, grading and off-road vehicle activity. Management includes site protection and enhancement, and water management.
How you can help: Please stay on trails when you hike in natural areas. That will help avoid unnecessary impacts to species such as the woolly-star.