Tricolored blackbirds are mostly known from California and occur sporadically within the Upper Santa Ana River planning area. Recent locations include ponds or wetlands in Colton, Chino and Mill Creek. They are scarce due to habitat loss and degradation.
Habitat for tricolored blackbirds include open water with cattails, bulrushes, willows and forbs. They forage in grasslands, open fields, pastures and other agricultural areas. They are primarily granivores, but also east insects such as grasshoppers and beetles. In the non-breeding season, tricolored blackbirds form large flocks for foraging and roosting. They breed from March to November.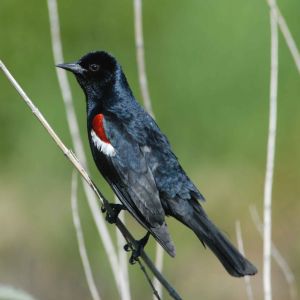 Much of the habitat for tricolored blackbirds has been altered by human development, including water diversion and draining of wetlands. Management includes habitat restoration. The recent Mills Creek Wetlands Restoration Project is a management example and was occupied by tricolored blackbirds within a year of initiation.
How you can help: Please try to avoid using pesticides and herbicides as they can be detrimental to our native landscapes.